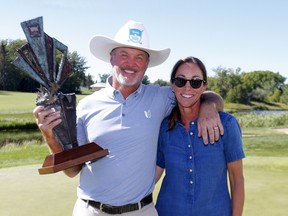 Article content
Jerry Kelly was cradling the trophy with one arm and had the other wrapped around his wife Carol.
Article content
Perfect.
Kelly continued an incredible hot streak with Sunday's playoff victory at the 2022 Shaw Charity Classic, his third title in his past six starts on the PGA Tour Champions.
A remarkable roll … and yet, not the only reason — or the biggest, for that matter — that he and the love of his life are all smiles.
Article content
"I actually just had my six-month scans, and I got really positive news at my halfway point of treatment," said Carol, who had a cancerous kidney removed in the fall. "There are a lot of positives going on right now, and I think maybe he's stopping and recognizing those a little more than he used to."
Indeed, he is.
Kelly worked a little overtime for this latest 'W.'
After he and John Huston completed three spins at Canyon Meadows with identical scores of 9-under 201, they headed back to the tee at the Par-5 18th for a playoff. Kelly ripped his second shot — a fairway wood from 243 yards away — onto the green and two-putted for birdie. Huston settled for par.
Article content
As Kelly chatted with reporters afterward, John Daly bellowed from the clubhouse patio: "Hey Jerry, can you give somebody else a chance?!?"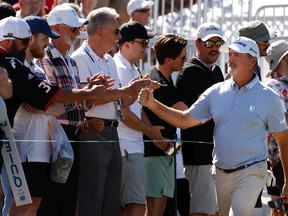 "If you want to know the truth, it all started with Carol's six-month scans and everything being really cool for her," Kelly explained of his recent tear, which also included triumphs at the Principal Charity Classic in Iowa and the Kaulig Companies Championship in Ohio. "That gave us such a positive outlook. We were just like, 'Hey, let's just have fun with life and go on, because we're going to have a whole lot more of it now.'
"That gave us those great vibes and we've been continuing it on the golf course, which you know is kind of strange for me."
Kelly, a way-back-when high-school hockey standout in his home state of Wisconsin, is quick to admit that positivity hasn't always been his strong suit, at least not when he's trading birdies with some of the best in the business. He can be awfully hard on himself.
Article content
"You have to treat yourself really good out here," Carol said. "Like I told him earlier this week, I dropped him off and I said, 'OK, how about you work on better body language or not hanging your head after you just missed a really great putt? How about thinking, 'I just hit a really good putt. You know, take a positive spin on things and use that?' So I'm hoping, maybe, he thought about that once or twice this week."
He must have.
Kelly, 55, could have avoided a playoff with a birdie on the last, but a slippery 15-footer sailed by the hole. With Huston staying limber on the range, he steadied his nerves and drained the comebacker.
"In the past, I don't think I would have been positive enough to make a great second putt to go into that playoff," Kelly said. "I wouldn't have been in the playoff if I didn't make a really good putt for my second putt. And I had three three-putts out there today, so trust me, the second putts weren't the most fantastic out there. It was just stick to it and be positive and know your stroke is going to be good enough.
Article content
"That's what (Carol) has given me this year."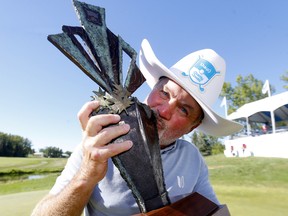 Sunday turned out to be a heartbreaker for Huston, who was seeking his first PGA Tour Champions victory since way back in 2011.
With a chance to finish up at 10-under, the 61-year-old pushed a short birdie attempt on No. 18. His flat-stick failed him again as he tried to extend the playoff, although this one wasn't from quite as close.
"The two worst putts I hit all day were on the last hole and in the playoff," Huston said. "Overall, obviously a good week, because I haven't played good in a long time. But I would have liked to have finished it off."
That would have been quite a story.
Even the eventual champion of this 10th anniversary edition of the Shaw Charity admitted as much.
Article content
"It was just great seeing Johnny Ray Huston up there again after all his injuries, getting healthy and playing like we know he can," said Kelly, who swished a shot from a green-side bunker on No. 15 for one of his five birdies in Sunday's final round. "It was bittersweet because he's been having such a tough time for so long that I really wanted it for him, but I had to keep on telling myself, 'You've gotta close, you've gotta close.' "
He did just that.
As a tournament-record crowd dispersed, he stood on the final green at Canyon Meadows, swarmed by photographers … Cowboy hat on his head, holding the hardware with his right arm and squeezing Carol with his left.
Perfect.
"She is the one who has been there for me a lot more," Kelly said later. "If I can just be there for her, that's great. But she has been an absolute rock through this."
Twitter: @WesGilbertson